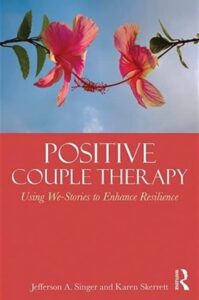 Positive Couple Therapy: Using We-Stories to Enhance Resilience is a significant step forward in the couple literature. Utilizing a strengths-based approach, it teaches therapists and couples a unique method for uncovering positive potential within a relationship. The authors demonstrate how "We stories"–created, recovered and made anew–provide essential elements of connection. With vivid imagery, these stories capture the couple's sense of "We-ness," highlighting memorable moments of compassion, acceptance, and respect. A shared commitment to the "We" simultaneously builds the relationship and enables each individual in the partnership to feel a greater degree of both accountability and autonomy. Couples that can find their stories, share them with each other, and then carry them forward to family, friends, and a larger community are likely to preserve a sense of mutuality that will thrive over a lifetime of partnership.
Positive Couple Therapy provides simple and practical instruction for reclaiming positive stories that can catalyze hope in relationships that have become stressed and strained. The authors weave together cutting edge thinking and research in attachment theory, narrative therapy, neuroscience, and adult development, as well as their own research and clinical experience to present vivid case histories, step-by-step strategies, exercises, questionnaires, and interview techniques. They cover a range of contemporary couple experiences: couples in conflict, LGBT partnerships, deployed and discharged military couples, and couples at various points across the life span. The authors' unique Me (to US) Scale, a 10-item tool that assesses the degree of mutuality a couple possesses at the start of treatment, gives therapists of any theoretical orientation the ability to put this intervention to immediate use.
"Offers new insights into relational processes unique to resilience in couples"
"Highlights pathways to relationship fitness and couples' ability to thrive"
"Joins together a range of perspectives on 'we-ness' as the key to positive couple adaptation"
This distinctive volume expands our understanding of couple resilience by identifying and exploring specific mechanisms unique to intimate relationships that facilitate positive adaptation to life challenges. Committed partnerships represent a unique form of relational alliance that offers an opportunity and challenge to go beyond the self – to develop as individuals and as a relationship. The contributors to this volume represent a range of perspectives that integrate conventional relationship science and innovative empirical and theoretical work on the importance of meaning-making, narrative construction, intersubjectivity, forgiveness, and positive emotion in couple life. The volume also offers a unique anchor point – 'We-ness' as it relates to the intersection between shared, and personal identity and well-being. Under-examined relational contexts such as resilience among LGBT partners and sexual resilience during illness adds further refinement of thought and application.